Introducing our 8th member spotlight of 2021 with Group Managing Director of WilsonCooke/Holdings, Mark Law, in the hot-seat.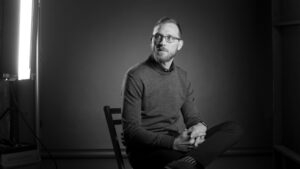 Agency / Business name
WilsonCooke/Holdings, including WilsonCooke/Brand Performance and GAIN LINE
What do you do?

We've been in business for over three decades now and we've continuously evolved in line with the changes we've seen in industry. We started out as a traditional marketing firm yet in the last twenty years, we embraced digital and the opportunities it presented.
We're entering yet another exciting new chapter in our history, while staying true to our ambitions, ideals and values that have led us to such success so far. We've restructured so that we now have a holding company (WilsonCooke/Holdings) which now allows us to have distinct business units that focus on their specialisms.
I am really excited to announce our first new business within the Holdings set up – GAIN LINE. We've launched GAIN LINE as we see a need for SMEs to understand the changing digitised landscape and a way for them to use digital solutions to reduce operational friction and build business advantage. With GAIN LINE, we have a team dedicated to the  digitally-driven operational optimisation of businesses.
So what does that mean? Quite simply, we work with business leadership teams to identify friction points which drain away at their bottom line and then use digital solutions to drive instrumental gains on productivity and profitability. These gains focus on improving business intelligence, optimising processes and increasing efficiency
Alongside GAIN LINE, we still have our brand performance agency WilsonCooke/Brand Performance.
In WilsonCooke/Brand Performance, we help drive brands forward and their business upward… by connecting brands to today's connected consumers by balancing brand and performance marketing.
We believe that choosing the correct balance of brand and performance marketing has the capability to change business and drive it forwards.
With this new structure, I'm very keen to grow the overall group both organically and by acquiring existing businesses which align with our overall goals.
We're looking forward to another very exciting ten years.
Who do you do it for?
Over the years we've worked with a wide variety of brands across a diverse range of industries and projects.
Big and small, B2B and B2C – every project and every client relationship has shaped our experience and sharpened our skillset.
Who / what kind of businesses would you like to do more with?
With both companies, we're built to partner with medium-sized organisations who are ready for change but not sure how to make it happen. We plug-in, partner and work with them to identify and maximise opportunity.
We love working in direct partnership with clients ready to gain from change and who rightly want to see the return on that investment. If we can't demonstrate the gain, we're not doing it.
How would your best client describe you?
I think that all of our clients would describe us as being (sometimes) brutally honest and transparent. I guess this comes from our Northern-ness which new clients say is a breath of fresh air from dealing with the other agencies south of the Watford Gap in the past. With this transparency brings a deeper level of trust and forms a greater partnership for success for both parties. Here's what one of our clients said recently:
"WilsonCooke were at the top of the pile from the very beginning. They brought knowledge and healthy challenges. Challenge to achieve a better outcome using our experience and where it is best suited. On top of this they are all genuinely nice people to work with. For us they were the best agency that we could have worked with."
If you would like to be next under the spotlight, just contact cindy@mpa.org.uk. 
MPA team