Introducing our 5th member spotlight of 2021. We hope that you are enjoying reading our monthly interviews with fellow members, and making new connections – we are certainly enjoying sharing them.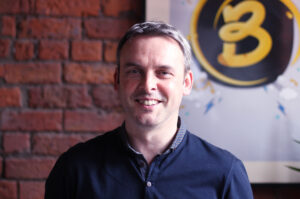 We're delighted this time, to put Stuart O'Donnell, Director and Co-Founder of Boardwalk Studio, in our hot seat. 
Agency / Business name
Boardwalk Studio
What do you do?
We are a design focussed, motion graphics, video production and post production studio. We create TV commercials, brand films, corporate communications and content for live and virtual events.
We are approaching our 10th birthday and remain a small, dedicated team of innovative, experienced creative thinkers and doers.
Who do you do it for?
We work with agencies of all types and sizes. From large full-service agencies to smaller boutique style event agencies. We also work directly with some of the UK's best brands, such as Astra Zeneca, BBC and Manchester City FC.
We've worked with many of our clients since we started the business and see that repeat business as a sign of trust and of the strong partnerships we have formed.
Who / what kind of businesses would you like to do more with?
We would really like to partner with either agencies or brands that are looking for a strong, creative and trusted team. We enjoy new challenges and bringing our creative expertise to all projects.
How would your best client describe you?
Boardwalk are probably described as a flexible, accommodating and understanding team that will always pull out all the stops to deliver content on time, on budget and to a high creative level. With minimal fuss.
If you would like to be next under the spotlight, just contact cindy@mpa.org.uk. 
MPA team