by Tom Cheesewright, applied futurist.
No-one saw this pandemic coming. We knew it was a possibility, but not this soon or with this scale of impact. It will leave a mark that lives long in the memory.
Some things will return to normal when the lockdown lifts. Where change is not enforced, one way or another, I believe that there will be little visible impact on our day-to-day behaviour. I suspect there will be a boom in consumer spending from those that can afford it, and many who can't, hungry for new experiences and enabled by cheap credit.
But lots of change will be enforced. There will be new legislation and regulation. More cautious approaches to health and safety. And of course, many businesses will have suffered or failed. Jobs will have been lost.
And so, we will rebuild. It's what we do. But this time, we have to do things differently.
Future-proofing
Looking to the future is only part of the work of an applied futurist. The more you look at the future, the more conscious you become of the uncertainty that we all face every day. And of the fact that some things only become visible when they get close. So, while I do my best to help clients peer through the mist, I spend more time warning them to be ready for the things they won't see until the last minute.
My new book, Future-proof Your Business, is about that preparation. It's a set of tools for scanning the horizon, accelerating decisions, and structuring your business for maximum agility. I believe these are critical leadership skills for the 21st century. But more important than the tools themselves is the philosophy of business that underpins them.
Adaptation not optimisation
For too long, our approach to business has been about efficiency. About optimising our performance for today's operating environment. This allows us to grow faster or eke out more profit. But it leaves very little room for adaptation should the conditions change, as they did with the arrival of COVID-19.
When we rebuild our businesses, we must make a choice. Are we in this for short term profit or sustainable success? Do we want to exploit every opportunity today, or build a resilient business that will still be here in a decade or two?
The answer to that question will influence just about every aspect of your business. It affects your approach to your staff, your customers, and your partners. It affects your attitude to the environment and the public realm. It affects your investment in skills, development, and training. It affects your spending on technology and innovation. It affects the very structure of your organisation.
The cost of resilience
There is a cost to being adaptable. An overhead. Adaptable businesses won't be the most profitable. That means it is always a difficult choice to take, whether you're a small business scraping by each month, or a global giant with shareholders demanding dividends.
But I believe it is the right choice. It's the choice that best aligns business with the best outcomes in every other aspect of our lives. And it's the choice that means that should such a crisis hit again, we will be better prepared to face it.
Tom Cheesewright's new book, Future-proof Your Business is available now on Kindle, as part of the Penguin Business Experts series. Buy it now at https://bit.ly/future-proof-book.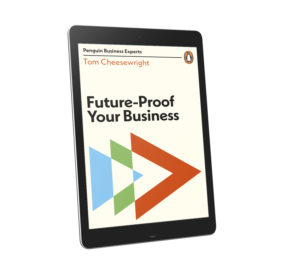 About the author
Tom Cheesewright is the Applied Futurist, helping people and organisations around the world to see the future more clearly, share their vision, and respond with innovation. Tom's clients include global 500 corporations, government departments, industry bodies and charities. Using a unique set of tools that he developed, and now teaches and licenses to others, Tom finds the critical intersections between today's macro trends and the existing stresses in each client's organisation and sector.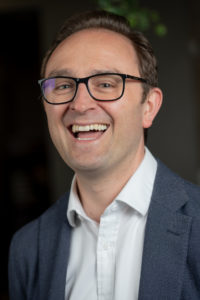 Tom is a frequent presence in the media, his face, voice, and unusual name recognisable from weekly appearances on TV and radio including BBC Breakfast, Channel 4's Sunday Brunch, 5live, Radio 4, and TalkRadio, and in The Guardian, The Times, The Telegraph and The Daily Mail.
Tom's first book, High Frequency Change, was published in 2019 and was shortlisted for the Business Book Awards 2020.
Find out more at https://tomcheesewright.com