"How we took our real-life event online"
By Nick Entwistle, Founder & Creative Director at the Bank of Creativity & One Minute Briefs
"One of the last 'real-life' events I was involved in was with the MPA. My 'Inside Stories' interview with Andy Johnson shared an insight into my career as well as telling the story of how I came back from a heart attack that I suffered at another MPA event, their annual football tournament.
It was a very important event for me as I was able to talk about overcoming problems and creating work that was seen around the world. In particular, our part in the NHS beating Justin Bieber to Christmas Number 1 in the same year that I was in hospital.
However, despite having an amazing audience who shared great feedback, numbers were noticeably down. The event came just days before the pandemic was announced and there was a lot of uncertainty. People were already dropping the handshakes and doing the 'elbow thing'.
The networking had a different feeling to usual and it was already clearly beginning to affect real events. Days later, on the day of the pandemic announcement, I was doing a talk at the Digital City Festival. This would be the last event I was involved in for seven months and counting.
The event was also hosted at Manchester Central, which ended up becoming the NHS Nightingale hospital. A worrying thought.
Events and meet-ups have always been key to what we do. Our One Minute Briefs community is built on creating relationships on and offline. So, without that, I began to get very worried as events began to get cancelled left, right and centre.
That being said, I firmly believed our annual #OMBLIVE7 event would be fine as we hold it every October. Surely we'd all be fine in 7 months time?
And, as we've seen lately, that's just not the case.
I asked our followers to vote online… would it be possible to make a socially distanced event happen… perhaps outdoors…or in a bigger venue with a smaller number of attendees as restrictions began to ease?
The response was indifferent. People wanted the face-to-face interaction but were nervous.
Some were determined to have a real-life event and others were completely against the idea.
Ultimately, I had no option. I either cancelled the entire thing and try again in 2021, or I see if we can do the event online.
Restrictions began to increase once again as I was considering what to do. But, after growing from 21,000 to 28,000 followers since lockdown and some of the things we've achieved as a collective in that time, I simply had to do something to celebrate the amazing achievements of our following.
Decision made. We were going to do this year's event online. #OMBLIVE7: Lockdown Edition.
I had real reservations with doing this and felt extremely anxious about it. Mainly because I've attended online 'events' and award ceremonies during lockdown. They felt cringey, staged and often rushed. These events normally last for hours, with people celebrating well into the night. And now, they were lasting half an hour. No human interaction, laughter or celebration.
As our annual event is held in a nightclub, (last year's being in Walrus in the Northern Quarter) sponsored by Jagermeister, and speed-networking encouraged, I was even more worried that our own event would be massively inferior in comparison to our previous events that have been real successes. It's never been formal, we've had one-minute talks, tournaments, dance-offs, raps and more. How could we ever replicate that feel online?
Well all we could do was try…
I asked some key figures who we've collaborated with throughout the year to give us a few words.
We had Lucy McKillop, Head of Brand Marketing at Clear Channel UK, Steve Wheen Founder & MD at Distillery & Ambassador of Outvertising, Natalie Fée author, presenter & founder of City to Sea, Will King entrepreneur & founder of The King of Shaves Company Ltd.
Not a bad list of people… and their talks were very inspirational in their own ways. Lucy even announced a year-long One Minute Briefs x Clear Channel partnership on the night, which is probably the biggest news OMB has ever had!
Then we had 10 of our followers/OMBLES giving One Minute talks about creativity and community.
It's not easy to fit what you want to say inside a minute… but this gave us some really entertaining content and, because it was short and snappy, we could hold the audiences attention.
One of these talks was delivered by mum (aka MOMBLE) and was more like an Oscar speech. It had people in tears and I turned it into a poster which you can see (left).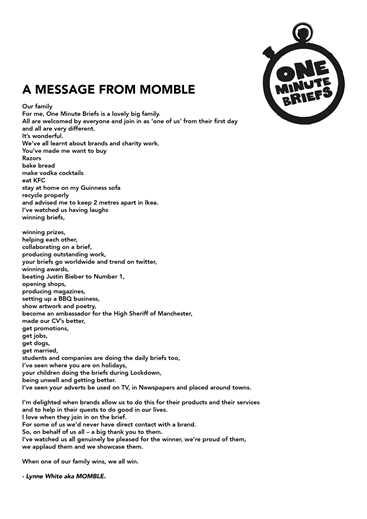 It's worth mentioning that the entire event was held on Zoom. I looked into hosting it on other platforms… but they were costly, would take lots of time to administer and, if I'm honest, I didn't trust the tech. I've seen some other examples where it's all gone wrong. Sticking to Zoom had it's challenges as there's not much to it. But share screen and the, all important, chat function were perfect for us. The chat was on fire during the event with immense support for each other during talks. Some people were nervous but it doesn't matter here. We're all in it together.
I introduced each speaker and they unmuted themselves when it was there turn, to keep things simple. It worked way more smoothly than I ever thought!! The talks were intersected by our tournament finals… where we invited the audience to all get involved at once in creating one minute ideas in response to briefs I set. The finalists then had to hold up their entries to screen as I put the winning ones into the next round.
This culminated in a tournament final set to a Countdown-esque soundtrack with the winner winning a trophy, followed by our OMBLE of the Year awards in which we celebrated the individual achievements of those followers who have stood out over the past year.
As well as this, we encouraged the attendees to tweet picture of their entries, screen-grabs and quotes using the hashtag #OMBLIVE7 via Twitter. This created so much content that it took me hours to scroll through and respond to after the event. Some events, including online, don't push the social side of things. I really don't understand this as it gives you much bigger reach and spreads the word much further, whilst hopefully giving people a bit of FOMO to make sure they don't miss out next time if they didn't manage to get a ticket. Despite it being online, I restricted the amount of tickets so it felt like a real event and kept a level of exclusivity like we usually have each year. This also helped as I wasn't endlessly trying to get people to get tickets, which allowed me to concentrate my efforts on creating a great event.
One difficulty I had when starting to organise the event was how much to charge for tickets. People tend to expect to pay less or get free tickets when events are online, yet the work that goes into them doesn't change too much. Not having to sort a venue is the only thing taken out of the equation. In the end, I decided to start with a cheap ticket and a second (still cheap) ticket with a contribution to the yearly awards. I was pleasantly surprised to see that most people went for the contribution tickets… which really helped me out initially. However, in order for me to spend enough time on the event to help it run smoothly, with speakers being briefed, organised, check their talk content, running the preliminary tournament rounds, ordering trophies and also put together a round up of the year myself, I was very grateful for sponsorship from Synergist, Clear Channel and thortful.
This allowed me to spend the necessary time to ensure the event was as good as possible and gave me time to go back through the year and pick out the key things we've been able to achieve despite lockdown.
I was proud to share how we started off with a selection of light-hearted One Minute Briefs right at the start of lockdown, before helping with public service messaging about washing hands, stopping panic buying and staying at home.
One of the entries, by @redballoonluke, ended up going viral around the world in 24 hours
Guinness then posted it themselves on all their worldwide channels and the poster will hopefully remain iconic of it's time in years to come.
We also delivered a campaign with the WWF for Earth Hour that encouraged people worldwide to get creative and involved in the event at 8:30 pm Saturday. We asked the community to share their 'lights-out selfies' and we even set up our own mini-event on Houseparty.
This was after our viral campaign created to take the animals off famous team logos including Wolves from the Premier League.
We also worked with the creative team of the United Nations, the NHS and various other big organisations and causes to make a difference during the pandemic. Even making it onto Live TV during Peston. From a silly one minute ad a few years ago in university to suddenly being on TV during a political show during a nationwide lockdown.
Since then, we've set trends on Twitter including, #BringBackTheShave, #GarlicBread, #Cheesecake, #PlatformShoes, #StayHomeChallenge and many more.
We've since collaborated with big brands like ABSOLUT, Recycle Now, Oxfam and PG Tips.
It's great that these organisations have the faith in us as a community to make big things happen.
And, it's a privilege to be able to share how far we've come and show what can be achieved by the community getting together to make time, make a difference, make an impact and, above all, make friends.
Overall, I'm extremely happy that I decided to persevere with doing an online event when my instincts were telling me not to. It was a huge success and, in many ways, the best event we have ever done. For an online Zoom, the team spirit, support, celebration, laughter, tears and sense of community is like nothing I have ever experienced before. We also had people attending from Hungary, Denmark, Africa, India and… Wales! It made me very proud.
You can never beat the real-life interaction of an in-person event. But we gave it our best shot, and hopefully we are together again in 2021.