A lot has happened in the lives of the two founders of The Candidate since they met as friends back in 1982. After being sat together on their first day of primary school, the 40 years that have passed have so far accumulated in the launch, growth and ongoing success of The Candidate recruitment agency. Brian Matthews and Colin Telford have swapped playing football, skateboarding and climbing trees with building valuable client and candidate relationships, guiding the business alongside digital sector growth and servicing some of the most successful and ambitious businesses in the North West, providing them with top recruits and digital teams.

Since 2012, the North West has given them both so much to help to launch and maintain a successful business. It has offered them amazing recruitment talent to grow an award winning team and a strong Board, one which has has been shaped with sector experience, invaluable insight and strong relationships from Laura Walters, their Recruitment Director. Additionally the last 12 months have seen the creation of their Associate Director Board, feeding the business strategy with experiences and information directly from clients and candidates who are all part of the vast melting pot of change we've all experienced of late. The two most experienced members of that board are Emma Burke and Alison Livesey, both with over 10 years recruitment experience each in agency and digital respectively. Both have experienced so much – from the growth of ecommerce SMEs to global brands, or the emergence of social media and influencers and the impact that has had on agencies and global brands in the region. Bolstering the board further, Leif Radford with 4 years in digital and analytics recruitment, is an example of a consultant with client side industry experience at an ecommerce company that allows us to understand our client's role requirements and candidate's desires, especially as analytics becomes so crucial to client's business planning. And further to that is Caldon Henson, also from a technology client side background, specialising in digital briefs and the agency's business development function. All are focussed on developing future stars of the business and welcoming them to the board.
Launching The Candidate a decade ago wasn't easy as we emerged from the recession, but just like the growth we are experiencing now in the COVID digital boom, the industry was growing fast then too, fuelled with direct response budgets in search of accountability and quick returns. The need for staff was great and with the added complication of a skills shortage, clients needed an agency that could identify appropriate staff for its organisation, with the all important cultural fit. Unfortunately there were too many recruitment agencies that were generalists, spamming clients with CVs and sending inappropriate or unqualified candidates forward for consideration. It was chaos but made launching The Candidate a little easier as we knew what clients needed and what candidates wanted.
For Colin, this wasn't too dissimilar to his role in co-founding performance marketing agency R.O.EYE in the affiliate landscape back in 2004. It was known as the wild west and had bedroom affiliates with a knowledge of Google holding global brands to ransom by out doing their search listings, attracting their customers and charging them a commission for the pleasure. R.O.EYE successfully helped to clean the image of that sector up through market leading initiatives with clients like eBay. Now Colin and his team applies similar professionalism and integrity to recruitment which has resulted in the demise of many digital recruiters from the region and that includes global recruitment brands (and bedroom recruiters!)
Our internal recruitment that is headed up by Associate Director Emma Burke who's understanding of The Candidate's own culture has lead to the successful creation of an award winning team, "We have invested a lot of time into understanding the kind of people we welcome to our business and it is so important that they share the same vision and values of the business with a hunger and passion to deliver for their candidates and clients. The team has a great balance of talented minds, from those who have spent time in industry, marketing, tech and creative, to those who are long in the tooth in media sales and recruitment. When these people come together they hold each other up and move each other forward."
When we reflect on what has shaped the mission and direction of the business there was one clear answer, our candidates and clients' needs. The Candidate spent a long time serving the media and agency sectors and with the introduction of Laura to the board in 2015 there was a subtle yet important step into the client-side realm. Laura says, "As we have adapted to the world around us, we have become a full service agency providing top to bottom recruitment for independent agencies, SMEs, as well as key hires at senior level to some of the biggest businesses in the region. We have also been shaped by the demand around us, with the introduction of analytics department due to our clients needing talented analysts, and the rise of the tech department with the shift of many of our clients committing to a tech led model. In addition, we have been committed to addressing the talent shortage in the North, and have been shaped by the cry for relocators – ultimately aiding in bringing some of the best talent in the country and beyond to the North West."
As a nation we're probably less sure of what the future holds than we ever have been before. Changes in working habits, socialising, digital consumption, eating, drinking and exercising to name a few have all got to settle and many of these key life attributes will help shape the future of the job market. Brian Matthews, Managing Partner explains, "We have embraced emerging technology, adapted to a financial crisis and are dealing with a global pandemic and businesses everywhere know they need to keep our people at the heart of what they do. We have already seen a shift to remote working and flexibility that has enabled talented candidates to now serve a wider market. Where previously remote working and flexibility was an unknown, it has now become a way of life." We all expect a period of settling to occur over the next year or so, but what we can all sure about is that things will never be the same as they were before, with caution and health being key areas of priority in our everyday lives and workplaces.
We are a team that prides ourselves on learning as means of growing and have embedded it into our journey. Laura highlights, "We can always improve and always keep striving for the best and we regret that we can't help everyone. However when we can't help a business or candidate we take this onboard and use this as a tool for growth."
Emma adds, "We have seen improvement in our processes, we can advise clients on the pulse rate of the market and when we can move quickly for them but also when they needed to move quickly to secure talent and ensure they don't lose out to faster finger first with a candidate. For example, GDPR has rightfully increased ethics within recruitment and made sure that recruitment businesses are appropriately handling personal information and in turn we have seen a shift in the perception of recruiters. We seen businesses are more receptive to conversations and can see where they can add value rather than a necessary evil.''
We are so proud of the business we have built and the strength of the North West, and we don't know what our next challenge will be, but what we do know is we have a wonderful community around us and there is nowhere else we would want to be.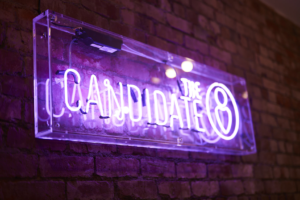 We now supply immediately available contractors for marketing, analytics & creative positions – click here for more insight from our white paper.