by Viv Woodward, President of Bloom North and Client Director at the Guardian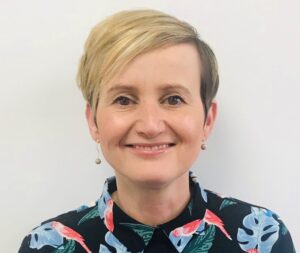 One of the most uplifting moments for me over the last 12 months (well
actually, over most of my lifespan tbh), was on 20th January 2021 – The US inauguration day.
First of all, it felt like we were all about to step back into the light. One where the dark, chilling, and to be brutally honest, quite terrifying film set we had been sitting through and experiencing for over 4 years with Trump at the helm, had metamorphosed into something more uplifting, where the supervillain had at last been conquered by the good guys. Proof that good can overcome evil. It felt like that first gasp of fresh air after swimming under murky waters for so long.
But what really nailed it for me was not one 70-ish year old white guy being replaced by another, (sometimes the plots don't change that much do they?), but that something far more exciting and significant was taking place. It was at about 4.32pm on that day that I stopped listening to and half glancing at what was going on in the background whilst working, and I downed tools to give a significant piece of history my whole attention. I watched Kamala Harris, the first Black, Asian American woman become Vice President of the USA.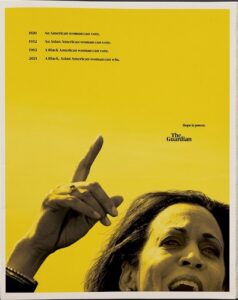 I felt supercharged. I actually filmed it on my phone and balled my eyes out throughout the whole ceremony. This was it. This was the moment women had been waiting for. Proof that any barrier can be broken. Just over a whole century after the first (white) woman had been allowed to vote in the USA.
But precisely as I thought we'd really got somewhere, that euphoria came crashing right back down, and reality hit in my own backyard of advertising.
Those of you who saw the government's latest Stay Home, Save Lives campaign creative may resonate with how I was feeling. I have no problem with a strong hitting / powerful advertising message that encourages people to do the right thing and behave in the correct way, but the irony was not lost when you saw the actual ad … It was like going back a decade, or three …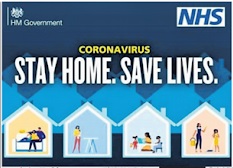 The ad depicts a woman who literally has to do it all, by herself. She is the fulfilling partner, parent, childminder and homeschooler, as well as domestic cleaner and diy'er. All of it down to her. Her 'partner' only featured briefly for a cuddle, and then gawd knows where he and his responsibilities disappeared to, whilst she carried on making everything else happen.
Luckily, Kim French, Head of Brand at our fellow counterparts Bloom in London, brought the ad back into 2021 with a bit of clever editing (it took all of 15 minutes … again, the irony …) and we were back in the room together once more.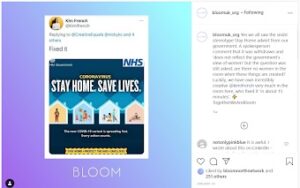 The Bloom instagram post stated: 
Yes we all saw the sexist stereotype Stay Home advert from our government. A spokesperson commented that was withdrawn and 'does not reflect the government's view of women', but the question was still asked: 'are there no women in the room when these things are created?'
And just like that, we are back to those barriers. Where were those female creatives? How diverse was the group of people who made those decisions or had the final sign off for the campaign? 
And that is why we have to continue to challenge and keep our voices strong. We are not there yet. 
And this is also why I am passionate about Bloom North, and why we continue to thrive. For those of you who aren't aware, we are a professional, open network committed to uniting voices, inspiring others and, ultimately, driving change in the comms industry. 
I've been part of the Bloom North Committee since its inception in 2018 when I managed our live events, but decided to follow my increasing passion and step up as President in 2021.
We have a newly formed committee of amazing women who have been busy working hard outside of their day jobs to orchestrate a new program for this year.  One that will continue to support all women in the comms industry, challenging the barriers that prevent a truly diverse industry, and ultimately creating some solidarity for like-minded people in the North.
Our program incorporates many different opportunities for people to connect with us, including panel events, workshops, training sessions and mentorships, designed to encourage a truly diverse industry, inspire, challenge and drive empowerment. Our aim is also to bring people together again – to join forces and make new allies and connections – virtually at the moment of course, but physically later on in the year when we are allowed to see real faces again (I yearn for that moment).
So if you are passionate about driving meaningful change in our industry, are committed to empowering women, and want to create a positive and inclusive industry, then come and be part of Bloom North! Everyone is welcome.
And as we collaborate to make positive change in our communities, we can also look forward to hopefully seeing the first Black, Asian American woman become President of the USA in 4 years time …