To kick-off 2022, we'd like to introduce you to wife and husband team, Rhiannon and Simon Lewis, who run The Gate Films – a production company based at the Foundry Film Studio complex in Salford, also owned by them.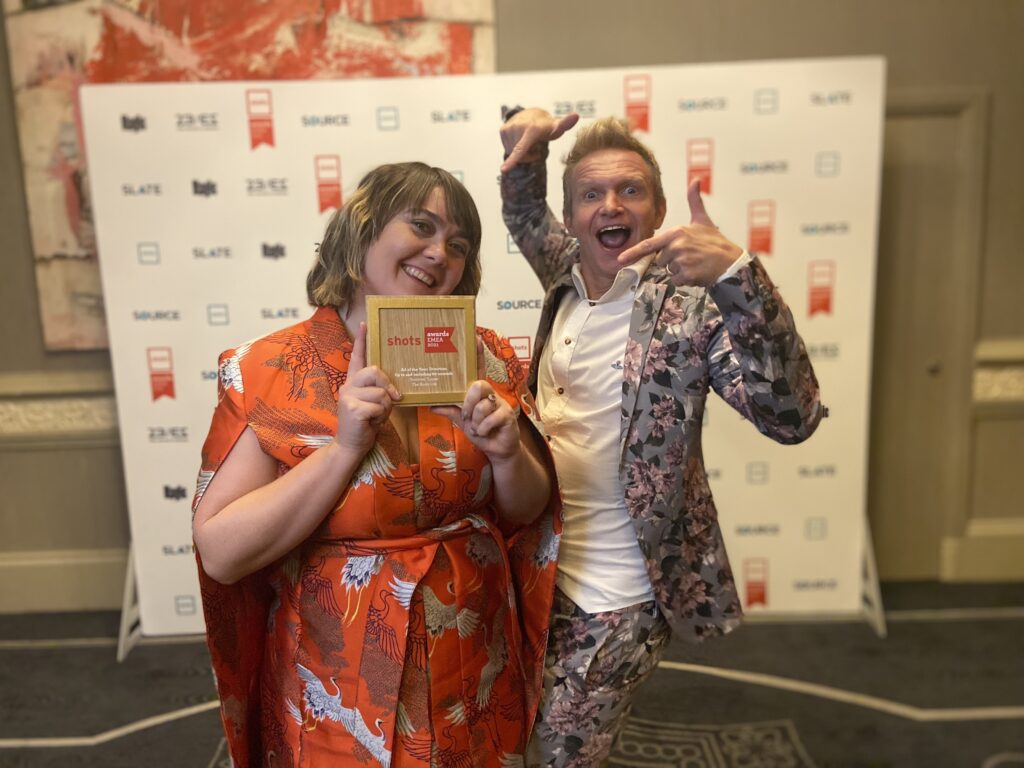 Agency / Business name
The Gate Films
What do you do? 
Rhiannon – I head up the production team at The Gate, so I oversee a 15 strong department of producers, PMs, PAs and creative directors. I also produce jobs – overseeing everything from budget and casting, to edit and approval for TV and online airtime. I'm a cross between the fun police and a mum – but I'm not a regular mom, I'm a cool mom 😉
Simon – As CEO I'm responsible for the strategic and business side of the company. What that really means is that I spend most of my time working out how we can do things better for our agencies and clients, and what opportunities might suit the business.
Who do you do it for? 
Rhiannon – I produce campaigns for brands such as Nike, Missguided and Tommee Tippee, working both directly with clients and alongside and for agencies across the UK and Europe.
Simon – Brands that need premium film and photography content. Agencies we've worked with recently include McCann Central, Manifest, IMA, Dark Horses, Ardmore, R/GA, Karmarama, Refinery, Cheetham Bell, Bray Leino, RBH,  for brands big and small including Apple, Nike, Soreen, Cloud 9, Very, Lurpak, Arla, Peugout and Tommee Tippee.
Who / what kind of businesses would you like to do more with? 
Rhiannon – Fashion is my passion. I'd love to work with some of the new brands launching in the rental market as I think this is going to be big business as people look for more sustainable options. I'd love to produce some content for Vogue and ID. I love the work Vogue did for Pride last year. I love working with clients and agencies who are really collaborative, I find I'm much more fulfilled as a creative producer where I get to have an input, rather than just work on the numbers. I love collaborating with agencies like Manifest who really value production as a partnership – our relationship produces the best, award winning, work.
Simon – Both Rhi and I are really into fashion so our goals are similar. Probably the most gratifying work I've done however has been the NHS campaigns. Getting the Choir to Number 1 during the Junior doctors campaign and then the Johnny Vegas 'Thank you' campaign at the start of covid. To see the real power of film when used like this gives me great confidence that if we focus on making super engaging, relevant, emotive campaigns, then we won't go far wrong.
How would your best client describe you?
Rhiannon – Passionate, driven, and if they've been out with me or to one of our legendary parties – a great dancer!

Simon – Rhiannon seems to have stolen my quote, so I'll run with 'Ridiculous, energetic, loyal and still looks decent in a small dress'.
If you would like to be next under the spotlight, just contact cindy@mpa.org.uk.
MPA team