Leif Kavan Radford – Data and Tech Recruitment Director, The Candidate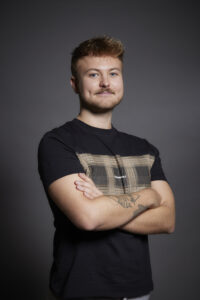 "Recently I've noticed there is a real hunger within my network to get back to normality and start meeting up face to face again. Pre-covid there were tons of Meetups, conferences, events and the like happening, but sadly many of them haven't returned. With there being so few options out there at the moment, but knowing there was an appetite for it, I decided it was time to do something about it, so: I've decided to organise my own!
I've been part of the Data/Tech world in Manchester for over five years' now, and I feel really strongly that having a space where the data/tech network can come together, to share insights, ideas, and techniques is vital for the North West to continue to be a leader in this space. It promotes collaboration between people that are technically competitors, fosters a sense of community, and means we are all able to upskill one another – all of which the North West is known for excelling in.
Technically Speaking will give our wonderful community of geeks the chance to listen to talks, meet people in the industry and chill out with a room full of people whose families have no idea what they do.  It's a fantastic opportunity to make some new connections and learn, whether you're a student considering their career options in digital, a Head of Department looking to share their experience, or anyone in between. There'll also be food and the odd tipple or two!
We've got four brilliant speakers lined up each giving a 10/15 minute talk on something that interests them. The first three will be from people with a background in one of the following areas: Data – Tech – Product – CRO – UX/UI – Analytics.
The fourth and final talk will be something light-hearted and focused on the positive development of everyone attending, whether that be mental health tips, a stress workshop, or advice on how to climb the career ladder.
Technically Speaking Meetup No. 1 will be on Thursday 21st July at 6pm downstairs at BAB NQ.
The line up is as follows: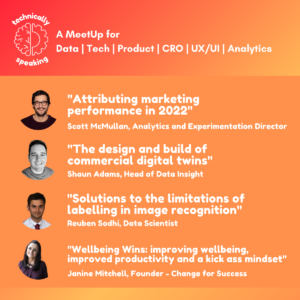 Speaker 1: Scott McMullan, Head of CRO, Bedrock44:
"Attributing Marketing Performance In 2022"
Speaker 2: Shaun Adams, Head of Insight Consultant:
"The design and build of commercial digital twins"
Speaker 3: Reuben Sodhi, Data Scientist, Frame:
"Solutions to the Limitations of Labelling in Image Recognition "
Speaker 4: Janine Mitchell, Founder – Change for Success:
"Wellbeing Wins: improving wellbeing, improved productivity and a kick ass mindset"
You can find all the info on the group page: https://www.meetup.com/meetup-group-xyxpogag/
Ever wanted to have a go at public speaking? Sign up to give a 10/15 minute talk about something you're passionate about in an informal, supportive environment (you can even have a beer whilst you're doing it!)"