The Voiceover Gallery is an audio production company with recording studios in Manchester and London, and a large database of voices and linguists covering most accents and languages!
They have been running since 2004, and recently moved into their swanky new studio in Soho which has 2 engineer assisted studios, and a fully self op booth for voices/clients to hire which you can see Katie modelling in her photo. Over to you Katie …
Agency / Business name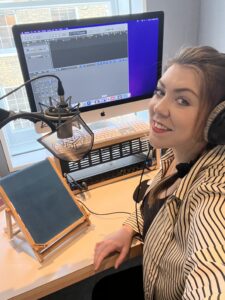 The Voiceover Gallery
What do you do?
I am Head of Production here at TVG, so I look after our fabulous team of Project Managers based up in the Manchester office.
We work on a range of projects from e-learning through to TV ads, Podcasts and anything you can think of that needs a voice!
We don't just cover English and International VO, but offer translation, transcreation and subtitling services, which means we can make our clients projects accessible on a global scale. It is my job to make sure the PM's are satisfying all of our clients' briefs, and more importantly that they enjoy working with us!
Who do you do it for?
Most of our clients are Creative Agencies or Production & Post-Production companies, but we also work directly with brands across multiple sectors. Some notable brands we have worked with are Manchester United, Clarins, BooHoo, Freddie Flintoff's Audiobook, DHL, Jet 2, Little Mix (this was a fun little intro on one of their music videos) and most recently we have been localising Dua Lipa's brand new podcast into Spanish, Brazilian Portuguese and French. Casting for Dua and her guest celebs has been particularly fun!
Who / what kind of businesses would you like to do more with?
Well, I'm writing this whilst on a train so getting the 'please mind the gap' VO would be pretty cool. It's iconic! But something else that we are seeing come through our studios more and more is ADR, and I would love for us to expand into ADR for movies, TV shows etc. (We already do a little bit of this). For those that don't know, ADR stands for automated dialogue replacement and let me tell you, there's nothing automated about it!
How would your best client describe you?
I'd like to think they would describe me as reliable, friendly and committed… I sound like a pet dog, but who doesn't love dogs!
If you would like to be next under the spotlight contact cindy@mpa.org.uk.
MPA team