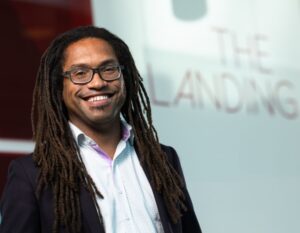 Digital marketing and tech expert, Dan Sodergren is to head the MPA's diversity & inclusion agenda across Manchester's media, digital and creative industry.
In this newly developed role, Dan will lead all direct or partnership initiatives including taking forward the MPA's D&I research initiative that was launched last year.
As a regular pundit on the BBC and ITV, as well as roles with Media City's The Landing and personal development tool YourFlock, Dan is a well known figure across the Manchester digital and tech sector. Of his new role, Dan had this to say: "I am so excited to have been chosen to head a new band of adventurers for this pioneering mission. Highlighting how we as an industry and as a society can become more diverse, more inclusive and in the end more successful and productive together. It will not be easy. There is MUCH work to do. Now is the time to take action and I am very happy the MPA are not only doing something proactive. But they are doing it with me too."
Christian James, current Chair of the MPA and MD of The if agency commented: 'Last year, through the first ever D&I study of Manchester's media, digital and creative sector, we identified a number of key issues that need to be addressed. We are delighted to have someone of Dan's experience and vision in this vital role to help us deliver against those issues and ultimately provide a D&I Strategic Playbook for agencies to help them navigate towards a more positive future.'
Celebrating it's centenary this year, the MPA is the not-for-profit association representing the entire media, digital and creative industry in Manchester. The MPA believe Manchester is the best place on the planet to work in this sector and if you're in it or want to work within it, then the MPA are here to do everything in their power to help you thrive.
For further information please contact MD Cindy Simmons cindy@mpa.org.uk